Recension av Avira Password Manager: Snabb expertöversikt
Avira promises to allow you to securely store all of your passwords and notes on any device—for free! However the free option quickly lost its appeal as—as I mentioned above—the features were minimal, the UX was terrible and the customer support almost non-existent. Actually, it made me think that even Zoho Vault—which I was not a fan of—had amazing customer service, even if it wasn't the best password manager out there. Avira doesn't have even good customer service to boast about. I've reviewed over 70 different password managers, and found this to be one of the weakest.
Avira Password Manager Full Review
Avira Password Manager is a quality and user-friendly product that is emerging as one of the top password managers on the market.
Unlike many password managers that come bundled with antiviruses, Avira's password manager is a worthy standalone product. It combines bank-grade encryption with excellent functionality to provide all the basic password management features you'd expect, all in a user-friendly interface.
Avira Password Manager is available as a standalone option, or as part of Avira's excellent Prime package that includes advanced antivirus protection, a VPN, PC tune-up tools, and more. All of Avira's plans offer a very good value and come with a 30-day money-back guarantee.
Avira Password Manager Features
How do the Avira Password Manager's features compare to other providers on the market? The bottom line is that there are really no outstanding features to balance out the awful UX and customer support.
Key Features
The Avira Password Manager doesn't offer many unique features, really only the basics:
Stores passwords and protecting them with a master password
Provides a password report with feedback on the strength of each password
Automatic autofill with browser extensions for Google Chrome and Mozilla Firefox
Two-step verification
Password Generator
When you enter a new account, you can select the password generator icon, and Avira will create a password for you. You can set the password length using a slide bar, for anywhere from 4 (not recommended) to 30 characters. All passwords include upper and lowercase letters as standard, and you can choose whether or not to include numbers and special characters with an easy checkbox. Since you don't have to remember the password you generate, I recommend using at least 15 characters, which according to the Avira system, is estimated by outside security commentators to take at least 3 million years to crack!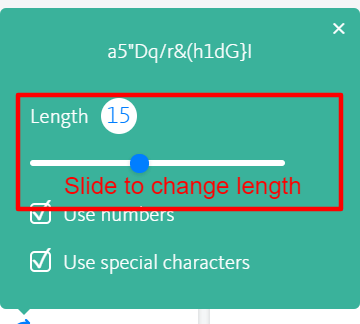 Password Capture
Avira captures credentials when you login to a site, making it easy to login when you revisit the same site. You have to click the entry field in order for the autofill to activate, which is to safeguard the system from filling your data into hidden forms. If you've saved multiple credentials for the site, Avira gives you a menu to choose from. It doesn't include an option to apply a friendly name during capture, you have to go back and edit the entry.
I encountered a problem because Avira doesn't capture credentials consistently. It did for some sites, and not for others. You can always add them in manually, but I found the inconsistency annoying. Especially when other password managers (hi there, LastPass! do a really great job of this.
Security Status Report
The left side bar includes an item called "security status" which gives you an overview of the security status of all of your accounts including unsafe websites, breached accounts, reused passwords and accounts to improve. If your password is weak or reused, there is an option to change it via the password manager I mentioned above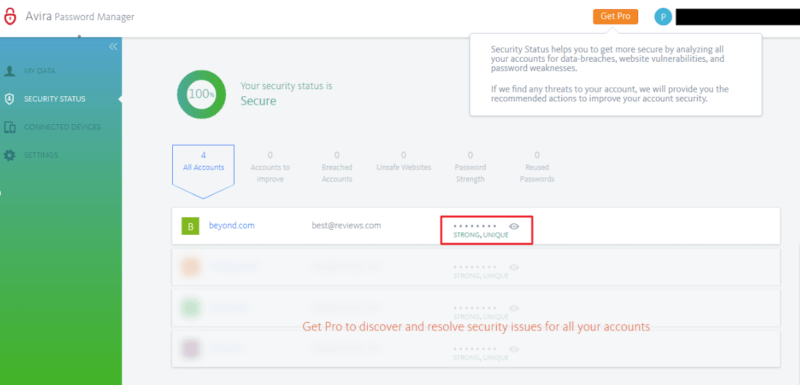 Avira Password Manager Plans and Pricing
Having found the free version so frustrating, I looked into the Pro version. But the wording was so vague, I wasn't really sure what I would be getting in the Pro version that I didn't have in the free one. Furthermore, if I was finding the free version so clunky and lacking intuition or support, why would I want to pay for a premium?
I took a look at the pricing chart to figure it out.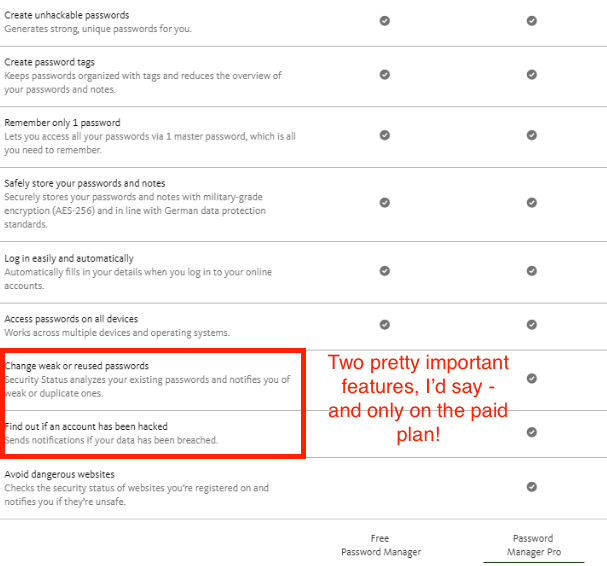 Unfortunately, this made me more confused.
The three features listed in the Pro version and not in the free version are:
Analyzes existing passwords and notifies you about weak or duplicate ones: Doesn't the free version do this? It scored my existing passwords, and wouldn't let me enter passwords that were very weak. The difference between the paid and free version isn't clear.
Sends notifications if your data has been breached: This is also included in the free version, via an outside provider (see below). It isn't clear if it is somehow done differently in the paid version, and more importantly, there are no instructions of what to do if your account is breached.
Checks the security status of websites you're registered on: This appeared to be the only real additional feature since it would check a website and notify you of a problem before you were breached. Yet, what if it was as clumsy as the features in the free version? And is that one feature worth paying for, even if it's only a few dollars a year?
There is no information on how many devices can be added to either the free or paid version, so there was no apparent reason to upgrade there either.
So I just upgraded, and hoped for the best. The upgraded version was identical to the free one. What gives?
Once I was in the paid version, I had an entire range of Avira products including antivirus, VPN, an optimizer, software updater and anti-theft for my mobile devices. Nice. I even had the option of setting up a family locator to track my family members via their devices. That's a bit creepy, but if you are the worrying type, it could be useful. All of those things are nice to have, but they have nothing to do with the password manager, which was identical to the free version.
If Avira wants to sell me a suite of security products, they should tell me that. Don't tell me that you're selling me an improved password manager, and give me the exact interface and features that I had in the free version. I would prefer to see a clear layout like in Intuitive Password, where there are several different subscriptions, and there is a clear list of what is included in each version.
Avira Password Manager Ease of Use and Setup
Since Avira is a well-established company with millions of users, I expected great UX and seamless install. I was excited to get started but disappointed every step of the way.
The first step is actually easy. All you have to do is sign up using your email and a password. They give you password feedback right away—they didn't like the password I was using: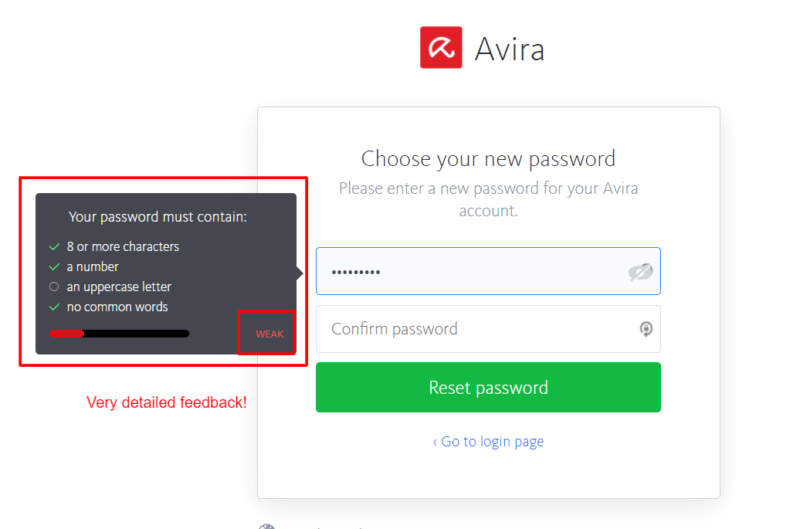 …although it was a combination of a word and number, the word was pretty common. They directed me to choose uncommon words, rather than my "go to" passwords. After I verified the login, I was directed to choose my "master password," the one which would allow me to manage all of the others saved in the system.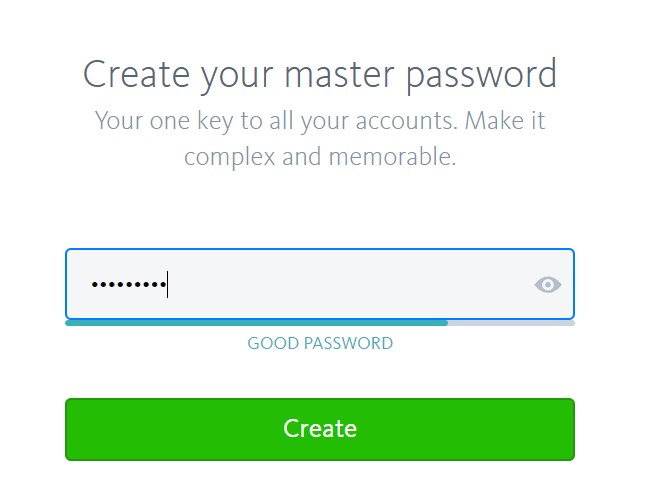 So far, pretty much what I had expected. Right away Avira required that I change the password as my security had been compromised by the screenshot. Good catch!
However I was surprised that although it says that the password should be complex, it accepted my first suggestion which essentially was a name and a common word, no numbers, symbols or capitals. Most other password managers have stronger requirements for complexity – even 1Password, which isn't even the best password manager on the market.
That's it, I was in the system. I landed on this screen.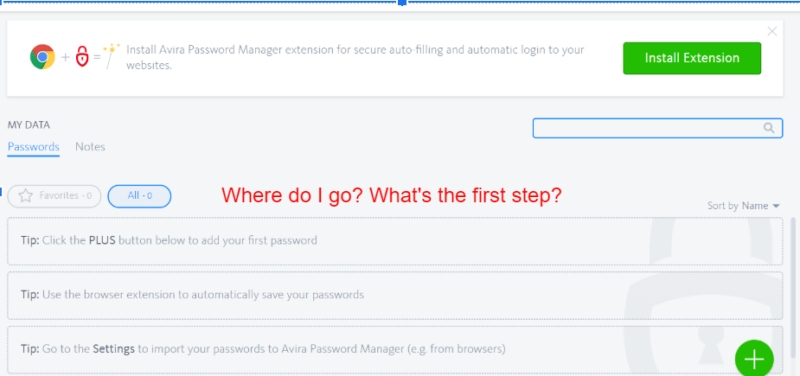 I didn't love the welcome since it pretty much left me on my own without a lot of direction. What should I do now? Should I add the Chrome extension for secure autofill? Or should I import my passwords first? And how do I import my passwords? I basically had to figure it all out myself, there isn't much in the UX to guide you through the setup.
I decided to start with the settings because that's where it said I could import my passwords. Here too, I was pretty much on my own. I had to scroll halfway down the page to even find the tiny "import data" link.
What data was it importing? How would it work? It wasn't even completely clear that it was importing my existing passwords. I clicked on the link and hoped for the best.
When I clicked on the "Import data" I landed on this screen.

That's it. No info whatsoever. This is not for the technologically challenged user.
Let's say that it was my mom who was installing Avira Password Manager. The first thing you would need to do is explain to her what a CSV file is, and how to create one. Or maybe not.
"Nevermind Mom, just let me do it for you." I do know what a CSV file is, but I'm almost as lost as my mom would be. How do I get a CSV file with all of my existing passwords in it without creating it manually? Through my browser? What about other devices? There is no information in the setup screens on how to do this, and no direction on how to access Avira resources to help you through the process. Maybe if you're a super-savvy techie this is inherently clear to you, but it wasn't clear to me.
I checked everywhere for import instructions (see the customer service section for details of my journey), but they were nowhere to be found.
Importing was so difficult that I decided to go the manual route, even though I wasn't thrilled with the prospect of doing data entry for every single site I have a password for. I started by manually plugging in my login info for one site. It gave me a score of "Medium," and told me that it would take a hacker two days to get into my account. Is that an average in hackerville? If it was a talented hacker could they do it faster? More importantly, what was I supposed to do about it? Again, there was no information whatsoever. Perhaps this would be beneficial for a user who worked in digital security, but for the average user like me, it was not helpful.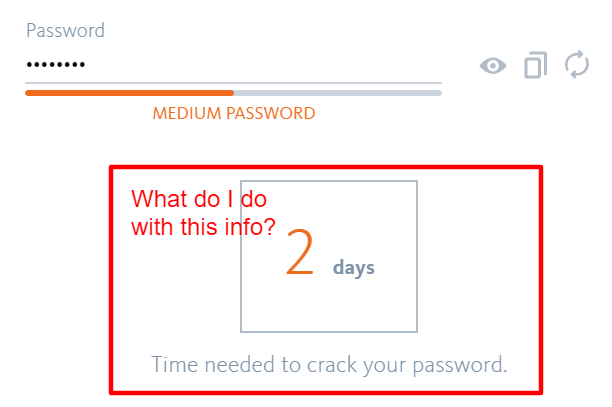 Next I installed the Chrome Extension, but other than asking me to login again, it offered no direction or help either. So far this wasn't looking good. They also offer extensions for Mozilla Firefox and Opera, but not for more common browsers like Safari, Silk or any of the others.
Avira Password Manager Security
Avira backs up your data in an a high-grade 256-bit AES encryption format on the Avira servers. Not every password manager has that level of security, so I was impressed. However, again, UX issues made it difficult for me, because you have to go into your settings and manually turn the backup on!

Breach checks
Avira offers breach checks in both the free and paid versions. Since the pickings are pretty slim with regards to other features, I decided to try it, figuring that this must be their big sell. Therefore I was surprised to see that the breach check is not actually a feature in the Avira Password Manager at all, but rather a sync with an outside provider, haveibeenpwned.com. I decided to try it and clicked the "enable" button. It gave me the below screen with a security status score of the account that I had entered manually earlier and lo and behold, some of my existing accounts appeared WITHOUT me having to manually enter them. It seems like the outside provider was able to do what Avira could not. But it was also unsettling that this outside provider suddenly had my info without me agreeing to give it to them.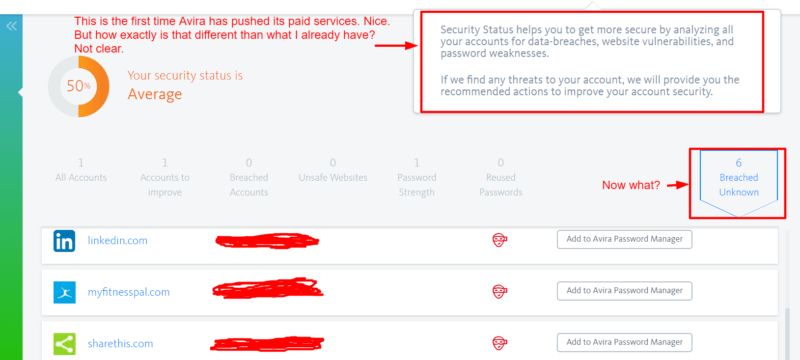 But I didn't have time to get too excited about finding my accounts in the system before I hit a wall.
The first thing I did was to try to click on the "6 Breached Unknown." A breached account is a major problem, and I needed to know what to do to rectify the problem, ASAP. I clicked on the link but it led nowhere. What should I do now? What is the point of telling me that I have a problem if you don't tell me how to fix it?
Then I tried clicking on the "add to Avira Password Manager," thinking that maybe that would lead me to the instructions of how to handle the breach. But no, it just took me to the screen where I could manually add an account. Although it automatically loaded the URL of the site, I still had to manually enter the password or any other data. Not a word about how to handle the breach, or whether it really is a breach or just an "unknown," whatever that means. Since one of the sites mentioned was Linkedin.com, where I have all of my contacts, this was scary and upsetting. Also, do I now have an account with haveibeenpwned.com? I like to keep track of what I've signed up for, and I'm still not sure if haveibeenpwned.com has my info or not.
Avira sells security. Being routed to an unknown outside service, and having my info appear there without any explanations, didn't make me feel secure. In addition, giving information on breaches isn't helpful if there is no info on what to do about it.
Avira Password Manager Customer Support
Since the interface was so poor, I was hoping they would make up for it in customer support. However, I found their customer support disappointing for such a well-established company.
Basically, if you're just using the password manager, even if you have the paid version, you don't get personalized support at all—not by chat, email or phone. They do offer some nice tutorials and searchable FAQs, but if you're looking for the human touch, you're not going to find it here, and as I will explain, even the search capabilities were severely lacking.
I tried to work around it, and find a way to get through to a human being, by going to "Get in touch" in the footer. That takes you to this window, where you discover that the paid password app that you just bought is not eligible for any type of support! This is where Avira really falls behind the best password managers like LastPass and Dashlane.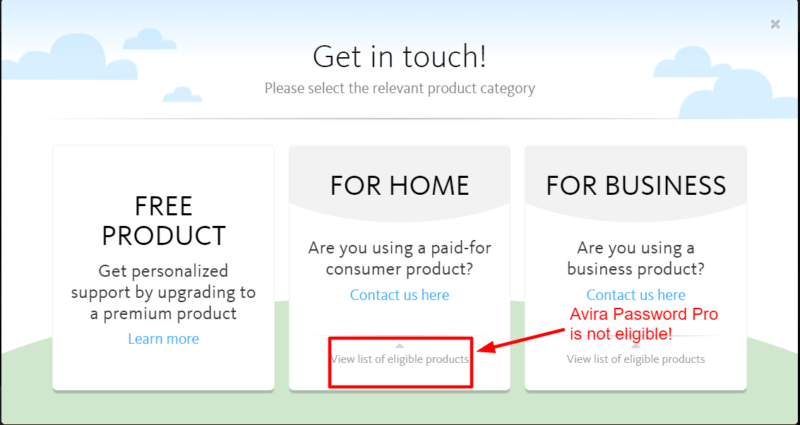 I didn't give up, and found another tab in the footer called "Avira Answers." It takes you to a screen where you can ask a question about a product. It then directs you to one of three options:
Search existing answers in their question database
Post the question in their forum for the community to answer
Ask an expert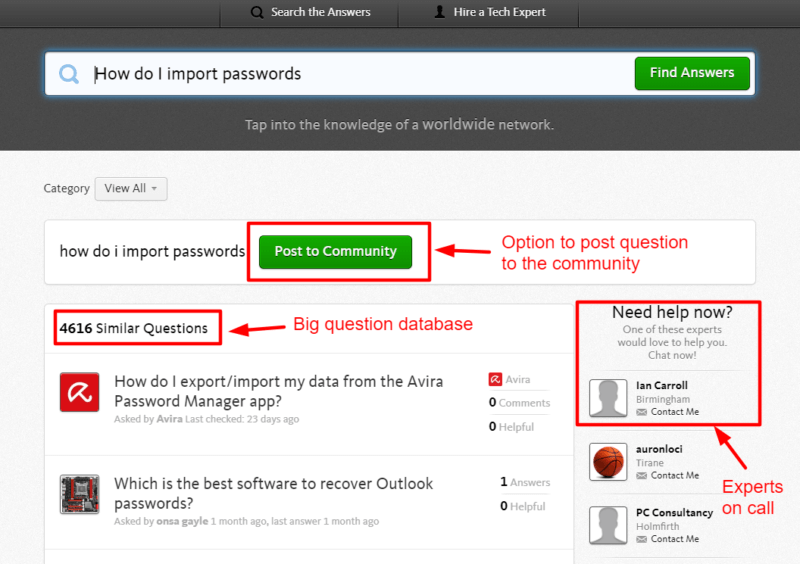 The questions database is quite extensive and does provide answers to many of the common questions. On the other hand, the major disadvantage of their answers database is that it is mainly free search, with little direction from the system. Even when you search common queries like "import passwords," it seems to load random answers that don't help you with the question you asked.
Next, I tried video tutorials and tried to find one about importing existing passwords, something that I'd encountered problems with in the setup. I landed on this screen.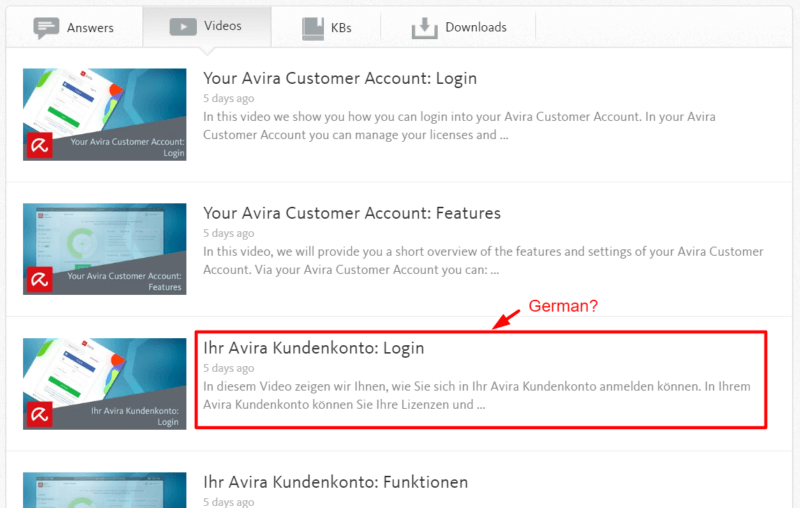 Why were two of the four featured videos in German? I know it's a German company, but if I am reading the site in English, and my IP address is not in Germany, why would they offer me videos in German? There was no way to select the language you wanted, and it seemed fairly random for the first screen to include two videos in a foreign language on an English site. Other than the search window, there were no menus to help me find what I was looking for in language or content.
I decided to try the search window for their videos. I typed in "Import passwords."

There were no results for the search. That must be the question they get the most, and there were no results? I tried several other search terms including "importing passwords," "csv" and even "cvs" for my mom, who would probably confuse the two. Still no results. I had to start Googling to find answers, or learn German. Not good.
They also recommend that you try posting to the community, but then you have to hope that someone comes in and answers your question in real time. There is a lot of chatter in the forums, but not every question is answered and certainly not right away. If you're having a problem logging into a site you use for work or for ongoing communication, you are not going to want to wait for someone from the forum to respond to solve your problem.
Your last option is to ask an expert. The expert page boasts 632 active experts and allows you to choose one of ten different languages in which to receive support.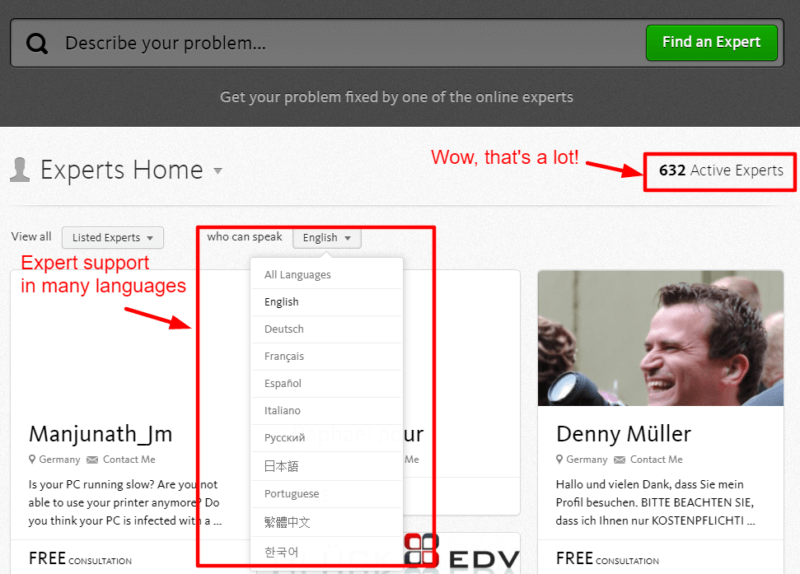 Again, there are language issues here. Even if you select English, many of the profiles come up in German. Perhaps those experts also speak English, but if I can't even understand their profiles, how can I decide if I want to contact them or not? The top expert has only six reviews, and the most recent one is from six years ago. While many of the experts offer a free consultation, most post charges of 40 Euros an hour or more. And none of them actually work for Avira, they seem to be random computer technicians touting a variety of services. It seems very substandard to me. I could probably get similar results from searching "tech support" on Google.